This post has already been read 125 times!
Africa's premier investment platform, Africa Investment Forum Market Days, has drawn $31 billion in investment interest from African and global investors at the just concluded 2022 event.
Combined with $32.8 billion from the rescheduled 2021 Africa Investment Forum Market days, the forum has mobilised a total of $63.8 billion of investment interest this year.
The three-day event took place as virtual boardrooms in March this year and held in the Ivorian commercial capital, Abidjan.
It attracted the participation of several African heads of state and government.
The leaders chaired boardrooms and led transactions with potential investors.
They included Vice President Tiémoko Meyliet Koné of Côte d'Ivoire, who represented President Alassane Ouattara.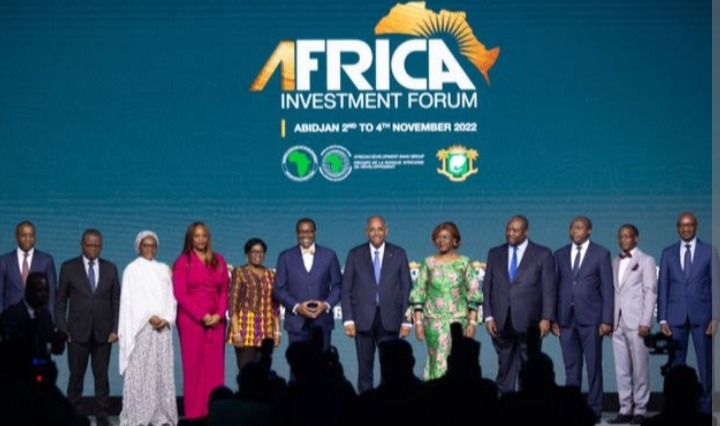 Others were President Sahle-Work Zewde of Ethiopia; President Nana Akufo-Addo of Ghana; President Emmerson Mnangagwa of Zimbabwe; Vice President Jewel Howard Taylor of Liberia; Vice President Philip Mpango of Tanzania; Prime Minister José Ulisses Correia e Silva n of Cabo Verde; and Prime Minister Patrick Achi of Côte d'Ivoire.
This year's Market Days event — the third since 2018 — took place under the theme: 'Building Economic Resilience through Sustainable Investments.'
It was held amid global economic challenges that have been compounded by the impacts of climate change, the Covid-19 pandemic, and the Russia-Ukraine war.
The event showcased the Africa Investment Forum's founding partners' joint resolve to help unleash Africa's investment potential in such critical sectors as infrastructure, agriculture, energy, education, the creative industries, sports, and transactions that champion women entrepreneurs.
The forum's founding partners are the African Development Bank, Africa50, Afrexim Bank, the Africa Finance Corporation, the Development Bank of Southern Africa, the European Investment Bank, the Islamic Development Bank, and the Trade and Development Bank.
The partners said the results this year have exceeded expectations, given that the world is currently grappling with so many unprecedented economic challenges.
Nigeria born African Development Bank President, Dr. Akinwumi Adesina commended the forum's outcomes and the partners' commitment.
He said "despite the challenges, we are not afraid, and neither have we despaired nor lost hope.
"We are excited and committed to a collective goal… accelerating the closure of deals to transform Africa and its investment landscape", Akinwumi Adesina said.
He added that the Africa Investment Forum's focus is to attract more foreign direct investment to Africa and ensure the private sector remains the driving force of that transformation.
"The private sector is Africa's growth accelerator. We must mitigate real and perceived risks and persuade the private sector that investing in Africa is safe," he emphasised.
Islamic Development Bank President Dr. Muhammed Sulaiman Al Jasser said in a message his organization was hopeful that "our commitment and dedication to the AIF will translate into tangible and measurable outcomes for the benefit of our member countries across Africa."