This post has already been read 119 times!
Following a massive protest in Lagos, a conglomeration of about 107 Anti-Corruption crusade groups led by Crime and Corruption Monitors has impressed on the incoming administration of President-elect, Bola Tinubu to ensure the Economic and Financial Crimes Commission (EFCC) is cleansed of entrenched corrupt leadership symbolized by its current Chairman Abdulrasheed Bawa.
The Anti-Corruption crusade Conglomerate speaking after the protest which terminated at the Youths Sports Complex, Lagos, pointed out that EFCC is an important government agency in Nigeria, established primarily to rid the society of corruption and not conceived as an agency for settling scores for political godfathers.
The convener of the conglomerate, Idowu Bello who read the statement in the Lagos rally warned that "If a government agency expected to fight crime is found going about its business in a manner that mimics witch-hunt and selective justice while also being unable to deal with the corruption going on within its own workforce, the nation is headed for real time crises, conflict of confidence."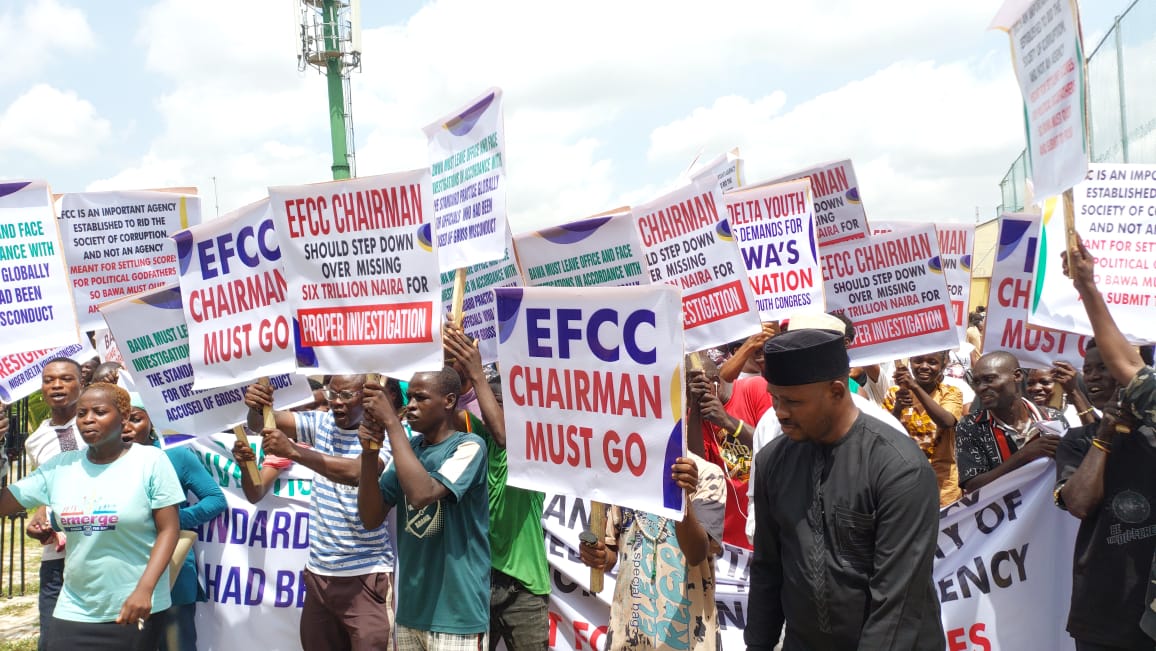 He noted that despite government's claim of making the fight against corruption and related practices a top priority, EFCC, the agency charged with the execution of the war, is in questions over mounting allegations of monumental corrupt practices.
"Allegations that about 80 per cent of cases under EFCC investigation are not taken to court. EFCC offices now literally serve as courtrooms.
"Last week, Zamfara state governor, Bello Matawalle, alleged that Bawa demanded the sum of $2million from him as bribe to stop a purported probe against him.
"Even before Abdulrasheed Bawa was presented as substantive EFCC Chairman, he has been arrested and detained by the anti-graft agency in 2019 for selling at least 244 trucks worth between N20-30 million each to his proxies at N100,000 per unit.
"He is also accused of recently expanding a large amount of money to the tune of $300,000 for hotels and other activities, which is far and beyond his income as civil servant, during a visit to Mecca with his family on a lesser Hajj.
"There are also allegations of connivance with the Attorney General of the Federation, Abubakar Malami in auctioning of sea vessels holding crude oil seized by the Federal Government, violating Section 31(2) and (4) of the EFCC Act 2004.
"Malami and Bawa also allegedly authorized the sale of vessels by companies under EFCC prosecution for similar offence of illegal bunkering.
"Bawa and Malami were fingered in the discontinuation of a N25billion criminal charge against Senator Danjuma Goje without any justification after over seven years of diligent investigation and prosecution.
"Equally, the incident of Abel Isah, an EFCC cadet in Sokoto who was allegedly beaten to death by superior officers for refusing to sign off on incomplete exhibits is still fresh in the minds of Nigerians," the statement read.
The Crusaders demanded the immediate sack of Bawa as EFCC Chairman and to be subjected to wholistic probe the way his predecessor Ibrahim Magu was treated.
"Like every other agency of government everywhere, there are global standards of practice for officials who had been accused of gross misconduct to step aside while investigations were conducted to ascertain the veracity of the allegations.
"As pointed out earlier several eminent eminent Nigerians have claimed to possess evidence of corrupt practices, breach of public trust and abuse of office against the EFCC and its Chairman, Abdulrasheed Bawa.
"It is based on the above observations that the Crime and Corruption Monitors and 107 Anti Corruption Crusade Groups deem it necessary to demand that Abdulrasheed Bawa excuses himself from office and surrender for investigation.
"We demand that if Bawa remains adamant, he be forced out and subjected to comprehensive probe the way his predecessor Ibrahim Magu was made to do.
"Since it is obvious by now that the Buhari administration which brought Abdulrasheed Bawa is not disposed to initiating action, we call on the incoming President Bola Ahmed Tinubu to make it first priority to cleanse the EFCC of corrupt leaders.
"Corruption is one of the most serious social and security challenges facing Nigeria today which is the more reason why Tinubu should see it as an existential matter that needs to be addressed and tackled robustly and defeated once for all.
"No nation can aspire to greatness or seek to remain secure and safe when corruption and other corrupt practices are allowed to find their way into all its vital institutions including the agency saddled with the responsibility of fighting it.
"For this reason, corruption must be confronted with the entire will and resolve of the incoming administration beginning with thorough cleansing of the EFCC by first getting Bawa out and subjecting him to probe before extending action to cover other organs and tiers of government in Nigeria without exception.
"Failure to do so will indubitably mean that every effort made the anti-graft agency is headed by suspicious leaders will defeat all development endeavours of the incoming administration and render its task the more difficult and futile.
"We remind the President-elect that National challenges such as the corruption we are faced with should not be treated with levity and condescension.
"Neither should action be limited to targeted individuals or tiers of government. On the contrary, corruption is a cross-national issue that affect every one of us regardless of where we live or come from," the statement concluded. Read more