This post has already been read 182 times!
Cholera, an acute diarrhea infection caused by the ingestion of food or water contaminated with bacteriaum vibrio cholerae.
Cholera remains a global threat to public health, and it can kill within hours if left untreated.
With an outbreak of this deadly disease in Darazo LGA of Bauchi State, an initiative of Amb. Yusuf Maitama Tuggar, known as the Kyautawa Iyali Maitama Tuggar Community Empowerment Initiative has come to the rescue of the affected communities.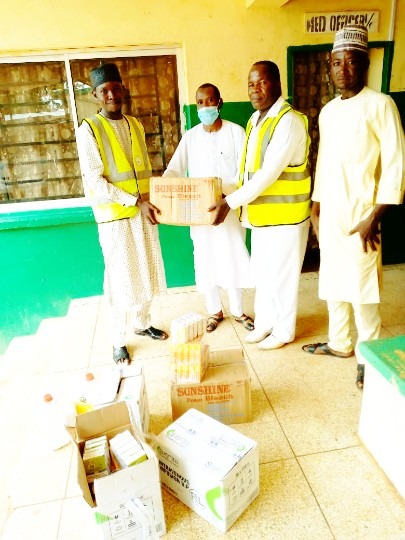 The initiative intervened to provide succour to those that are infected with the disease.
Representatives of the group from Darazo on Thursday, August 19, 2021, visited the communities with some packages containing some medical items.
The items include a carton each of IVF Metrodioxide, IVF Luf Ringers Lactate and IVF Giving Set.
Others are two cartons of Sunshine Bleach and Puret as well as ORS and Zink tablets.
The donation was presented to Darazo LGA General Hospital where the isolation center is located.
The representatives of the initiative were received by the management of the hospital, including the Chief Medical Director, the Chief Nurse, the hospital secretary.
The Chief Nurse of the hospital, Yusuf Simon, who spoke on behalf of the management, expressed appreciation for the timely gesture behalf of the hospital management and prayed for the initiative and for the success of the initiator, Amb. Yusuf Maitama Tuggar.