By Maryam Aminu
An Abuja faith-based and non-profit organisation that stands as an umbrella body under which Islamic programmes and projects are unfolding for the purpose of entrenching proper understanding of Islam and making positive impact in the lives of Muslims, non–Muslims and Nigerian society at large, ASHRAAF Islamic Foundation held its 5th Annual Maulid Nabbiy Lecture Series on Saturday 19th November, 2022 in Abuja.
Delivering his Chairman's speech, the Speaker, House of Representatives, Federal Republic of Nigeria, Rt. Hon. Femi Hakeem Gbajabiamila urged the Muslim ummah to exhibit peace as they exercise their franchise in the 2023 general election
Gbajabiamila added that Allah had already brought us together, therefore, we should add value to the Nigerian system by bringing peace and harmony; we must discard sentiments and vote for the right candidate"
Speaking further, he added that elections are obligatory; we should appoint the one who we think is good, because if the good people abstain, who will take their place?
Evil people will take their place, or neutral people in whom there is neither good nor evil, but they follow everyone who makes noise. So we have no choice but to choose those who we think are fit.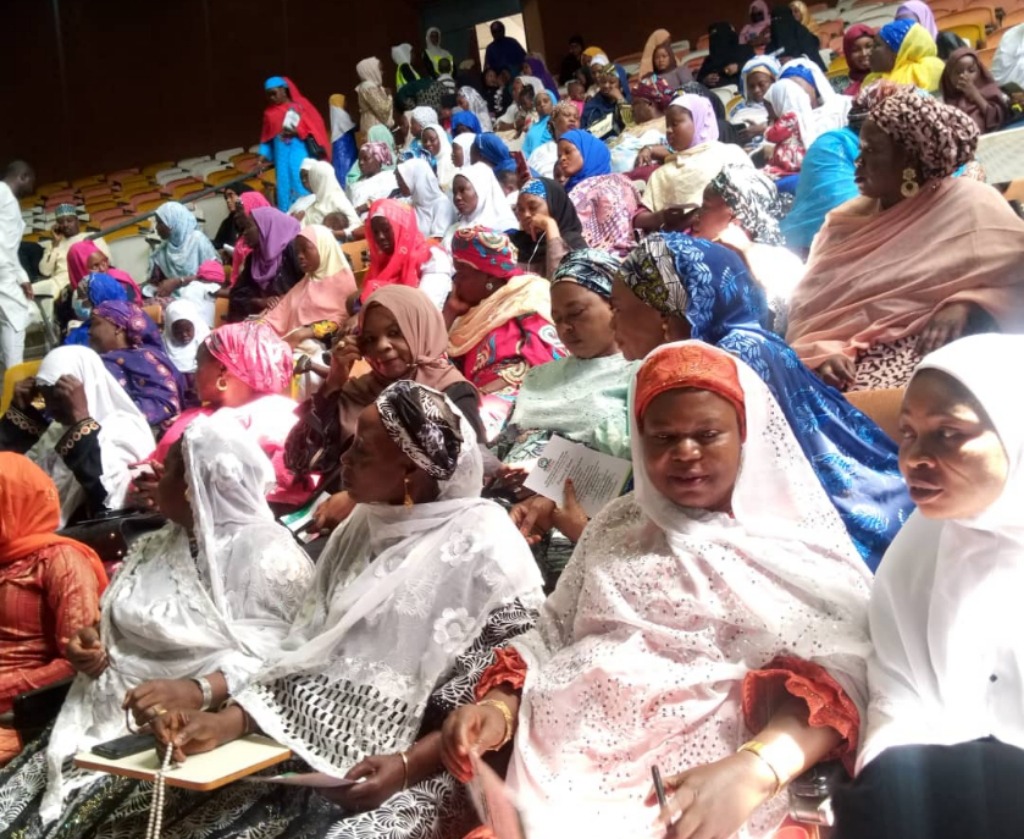 Presenting his lecture on the theme: Islamic Perspective on Elections and Democratic Governance, the Grand Khalifah Tijjaniyah of Nigeria, HRH Muhammadu Sanusi II said other than just making our voices heard, I believe we should step up to the plate, publicly support candidates and even run for office because we need that much involvement in the system in order to make a difference.
Quoting Islamic scholars, he said:
"Ibn Taymiyyah – may Allah have mercy on him – said in his valuable book "Al-Siyassatu al-Shari'iyyah": "So the Prophet, may the salutations and peace of Allah be upon him and his family, made it obligatory to appoint one person in a small gathering that is occasional on a journey, as a way to call attention to it for all other types of group of people.This includes all civil society institutions, unions and other well-known gatherings in this era – their members choose their leaders in accordance with the regulations and laws in force, as long as it does not violate the sharia.
Ash-Shawkani said: "And in it there is evidence that it is prescribed for every number of three or more to make one of them leader over them, because in that there is safety from disagreement that can lead to problems. With no leadership, everyone stamps his opinion and does what satisfies his whims. If this is the case, they will perish.
However, with leadership, disagreement will decrease, and their direction will come together. And so, if this is legislated for three who are in a deserted land or traveling – then its legitimacy is for a larger number who reside in villages and towns, and need to prevent grievances, and the separation of quarrels is most necessary and more important, and in that is evidence for the opinion of those who said: It is obligatory for muslims to appoint imams, governors and leaders.
On his part, the founder ASHRAAF Islamic Foundation Dr Sharafudeen Abdussalam Aliagan stated that we should be godly in our dealings.
He urged Muslims to come out to vote for the best candidate who will be just,merciful and deliver Nigeria from the menace she is in.
Aliagan called on political office holders to emulate the leadership and governance style of Prophet Muhammad (SAW) in their dealings with the electorates.
"Our leaders need to look at how passionate, merciful and compassionate prophet Muhammad was with his followers"
Make sure that when you become in a position of responsibility, you dispense justice in accordance with Allah's will, he urged.