This post has already been read 106 times!
National Population Commission (NPC), in partnership with National Orientation Agency (NOA), on Tuesday, embarked on a sensitisation road show, preparatory to the 2023 National Population and Housing Census.
The News Agency of Nigeria (NAN) reports that the road show started from Ahmadu Bello Stadium roundabout through the Nigerian Defence Academy bus stop, down to the NPC office in Kaduna metropolis.
NAN also reports that the exercise featured corps members and security agencies, among others.
NPC Federal Commissioner, Dr Abdulmalik Muhammad-Durunguwa, said that the road show was aimed at sensitising the public on the 2023 population and housing census.
"We are creating awareness, to make Nigerians know that come April 2023, there will be a national headcount.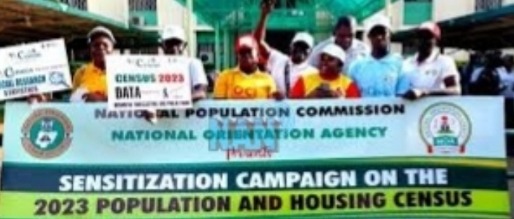 "All our workers need to be physically fit, because we have to go to every nook and cranny of Nigeria to count people; nobody will be left behind," he said.
Muhammad-Durunguwa urged Kaduna residents to come out and be counted, give the enumerators the necessary support and answer all the questions that would be asked during the exercise.
He said the commission planned to engage more than 1.5 million people across the country as ad hoc staffers to work in their respective localities.
The State Director of NOA, Alhaji Zubair Galadima-Soba, said the Agency had partnered with the commission to ensure that Nigerians come out en masse to participate in the census.
"We are mobilising and sensitising Nigerians to come out so that they can be counted.
"As patriotic citizens, it is our duty to allow the enumerators have access to our houses and families in order to get accurate counting processes and procedures," he said.
According to him, NOA has covered about 2,300 communities in the 255 wards across the state, mobilising and sensitising people in order to ensure the success of the exercise.
Galadima-Soba urged Kaduna residents to be orderly, allow the enumerators free access and report any suspicious movement in their areas. (NAN)