This post has already been read 300 times!
Wednesday, 28th April 2021 will not be easily forgotten as Isu Local Government Area (LGA) youths gathered at the Nigeria Army Resource Center, in the Federal Capital Territory (FCT), Abuja. The day was one that many Isu youths of Imo State will look back and ponder on owing to their good fortune for the opportunity given to them to partake in a thought-provoking, intellectually packed and quite resourceful conference.
The conference, under the auspices of The African Indigenous Center For Sustainable Development Goals with the bold theme "Curbing Dissidents in Nigeria for Sustainable Economic Development; Panacea Towards Achieving UN Agenda 2030", lived up to its billing.
While the keynote speaker, Major General Garba Wahab (rtd), the Director-General of the Nigerian Army Resource Center, was very insightful and urbane, Prof BOG Nwanolue regaled us with his professorial vocabularies and real life inferences.
According to Abuja Business Reports, notable personalities present include Chief Engr. Dr. E. C. Iwuanyanwu (Ahaejiagamba of Igboland), Farida Waziri, AIG rtd (former EFCC boss), Senator Jack Tilley-Gyado, Dr. Uche Oguwuike (former majority leader, IMHA), Hon.Dr. Victor Mere (Former member representing Owerri Municipal and Pro-Chancellor, Hezekiah University), Ahmed Tijjani, Afamefuna Ezenwafor etc.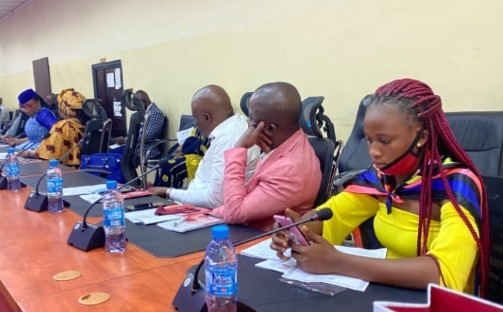 While we must commend the DG of Omega Touch Foundation Nze Agu Uzor (Nze-Obi) for receiving the invitation and incorporating Isu Youth Assembly, the major appreciation goes to notable leaders of Isu LGA which includes Chief Chuba Ohams (Onwa), Engr Magnus Agara, Ikenna Egbelle (Omega Bright), Nze Stanley Ibe(Dike Udo),Agu Sergius Chino, Hon cllr Celia Osakwe Herbert,(SA Governor on Disapora) Bar,Emeka Ozurumba, Hon Henry Okeosisi Ibejiuba, Hon Uju Okoro, Hon Kingsley Echendu, Hon Modestus Osakwe, Charles Osakwe, Engr Chinedu Chinakwe (Osisioma), for the show of love and solidarity to us through the provision of logistics for this movement.
Indeed, information is power. Nigeria is endowed with vast human and capital resources as the various speakers were quite knowledgeable and made quite an impression on their audience.
In his vote of thanks, the convener, African Indigenous Center For Sustainable Development Goals (AIC4SDGS), Ambassador Sixtus Obinna Nwoke, was gracious in appreciating all the participants for coming irrespective of the security situation in the country.
Indeed, Isu LGA is the winner here and we will never stop being grateful for this opportunity to mingle, learn, unlearn and relearn.
Below is the full text of an address presented by the Convener African Indigenous Centre For Sustainable Development Goals, Amb. Sixtus Obinna Nwoke:
AN ADDRESS PRESENTED BY THE CONVENER AFRICAN INDIGENOUS CENTRE FOR SUSTAINABLE DEVELOPMENT GOALS AIC4SDGS, AMB. SIXTUS OBINNA NWOKE TODAY, APRIL 28TH 2021 ON ITS FIRST CONFERENCE IN NIGERIA AT THE NIGERIAN ARMY RESOURCE CENTER ASOKORO ABUJA.
Protocol
I will be walking you through on what the conference is all about, how useful it is for you especially those who recently got inducted into the AIC4SDGS hall of fame as SDGS marshals. And also what the future holds for us all in the context of the theme of this conference.
I will first introduce the speakers and dignitaries to you and all our wonderful delegates who have come from all over the country to share their knowledge and enhance our mental horizon.
Today's conference is about seventy or thereabouts participants from all over, making it a truly national conference in spirit.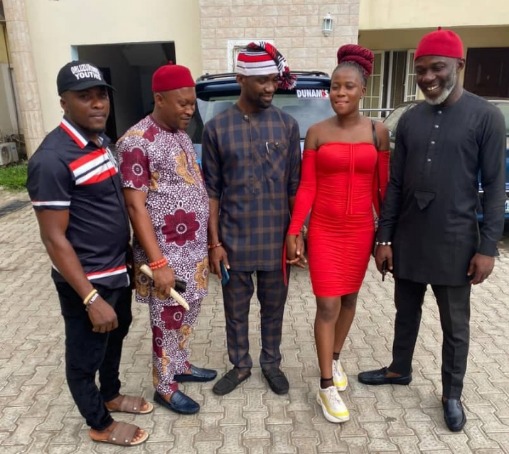 It is the first after giving birth to this vision in Pretoria South Africa, this was in 2019 with then Deputy Prime Minister of Lesotho Moleleki and Zambian University's Prof Michael Hansangule as chair and co-chair of the event.
Today we are proud to announce to you that the guest lecturer for today's event is Brig Gen Garba, the DG of NARC. An erudite scholar, one of the finest in his career. He will be giving a lecture in few minutes.
We are also blessed with the presence of the following….
The theme of this maiden event is Curbing Dissidents In Nigeria as the Panacea to Economic Sustainability
The conference is going to be an annual event, rotating from country to country/ state to state. We have agreed to be part of this solution, our government can't do this alone.
Therefore next year would hosts many events such as pick and speak, public debates/speaking, content writing for nation building.
Before we dive deep, I am most delighted to address us today on a topic that is capable of mitigating the hiccups that had inadvertently endangered the growth of Sustainable Development Goals in Nigeria.
Ladies and gentlemen, as I meditate on the importance of the theme: "CURBING DISSIDENTS IN NIGERIA FOR SUSTAINABLE ECONOMIC DEVELOPMENT, PANACEA TOWARDS ACHIEVING U.N AGENDA 2030", my attention was immediately drawn to the need to rearrange both our leadership and followership pattern.
The pertinent questions we should not hesitate to ask ourselves are; who are these dissidents to be curbed in Nigeria to allow room for sustainable economic development? And what is the importance of the 2030 United Nations Agenda? Why is Indigenous approach the best bet and how have the government and the people embraced the Indigenous solution to avert a repetition of failure that occasioned MDGS?
Have we embraced the 5Ps Of The SDGS which are the total solution?
Until we begin to understand the nitty gritty of good governance/ practical reality other than rhetorical in Nigeria and Africa as a whole, the push for sustainable economic development will continue to remain a mirage.
However, dear ladies and gentlemen, we have converged here, in this Nigeria Army Resource Center, Abuja to reason together as a people, but how are we sure that our vision, programmes and targets are the same?
Are we sure that we are on one page considering the spate of ethnic and tribal war seriously going on in Nigeria?
Are there underlying truths that need to be told to bring about permanent peace in our nation, don't you think that what we need is truth and justice, equity and love for all ethnicity?
This is a question we must answer before we clamour for a sustainable economic development. We are also expected to tell ourselves the truth if the realization of the United Nations 2030 Agenda is possible and realistic under an atmosphere of rancour, disunity and acrimony as it is.
Aside from the Dissidents that we are all feeling their terror, what about those that have trampled upon the growth of our nation's economic resources? This remain a million question that requires a billion answer! Who can bell the cat?
May I, as the Convener of this epoc event and on behalf of the youths in Nigeria and Africa at large inform you that the only dissidents we have been able to identify within us are some of the leaders who have selfishly, veered off the principle of morality to self-worth triggered by primitive acquisition of wealth and economic looting.
Today, you can beat your chest in nostalgia to say; yes…it is possible to have a sustainable economic development in a democratic setting as ours only if, these scavengers of our economy can readjust their mindsets and focus deeply on the business of governance of the state rather than displaying signs of ethnic bigotry and extremism as we keep witnessing by the day. We have several litigations from various states against most past governors over billions of naira, properties greedily acquired to the painful detriment of us the ordinary citizens, this is too much a knee on our neck, we can't breathe anymore.
Our assignment today is to proffer solution to the lingering economic, ethnicity and security lapses in the country, but disgustingly, most of these economic scavengers would not want to help us achieve this dream.
Dear Progressives and passionate Nigerians, support and partner with us in truth and in spirit for a new Nigeria in line with Mr Presidents vision.
Gentlemen and ladies, it is our firm believe and desire to have an Indigenous sustainable economic development framework in our clime, but until we partner with government and relevant agencies to stop the overzealousness of our economic looters and fight against injustice and insincerity of any sort against any ethnic nationality and begin to see ourselves truly as Nigerians and not Igbo, Hausa and Yoruba, it may jeopardize its actualization.
A little teaser for us today as a take home is SDGS 1&2, which is against Hunger and Poverty.
Our agricultural sector has received more attention than in the past, millions of dollars have been disbursed to resuscitate and increase agricultural production, but yet the cost of food items in the open market today had toppled beyond imagination, and we are asking, what are these that we can't solve?
In education, Nigeria is doing well no doubt, by increasing the number of both private and public institutions on yearly basis, but the question is, has it helped employment generation?
On youth development, Nigerian youths are still skeptical over what may be their plight after school, this by way of retrospect triggered the widely viewed EndSars protest across Nigeria which started well but later slipped off when these same scavengers invaded and hijacked the process.
It is no longer news that Nigeria is blessed with natural resources, but how we harness or utilize it can make or mar the possibility of sustainable economic development. Who can bell the cat?
Yes, it is still possible to have a sustainable economic development that can create room for the realization of the United Nations 2030 Agenda if rebranding of our overall attitude to issues can be effected.
Ladies and gentlemen, not until Nigeria and Nigerians imbibe the spirit of cooperation, unity, peace and good leadership , that is when we shall boldly be proud of a sustainable economic development that will aid the realization of the United Nations 2030 Agenda. And for us to achieve this Agenda which has 9 years remaining, we must go Indigenous. Begin to consider our peculiarities, begin to solve our issues with internal generated solutions.
Dear wonderful audience, by the time we are through with the do it yourself section of today's conference, you would have seen the very essence of Indigenous solution towards achieving UN Agenda 2023 which Nigeria is a signatory to.
Finally, we are calling on government and influential individuals to identify with our vision. The linkages between what AIC4SDGS is doing and that of the policy makers should be optimized.
Corruption at all levels must be stopped to pave way attainment of Agenda 2030.
Singapore Prime Minister, Lee Kuan Yew once said, there were two options for me.
Either….I get corrupted and put my family in the Forbes list of the richest people in the world and leave my people with nothing, or..
I serve my country, my people and let my country be in the list of the best ten economies in the world.
I chose the second option.
To us the present generation, our leaders body languages are saying, there were two options for us too, but as the second option was already taken by the Singapore Prime Minister, we had no other choice.
AIC4SDGS said, no there is an option. And that option is the round table option which we have provided. Pay more attention to developmental initiatives than destructive acts of dissidents, that would save us billions of our common wealth.
Our Trustees, Advocates and Cohorts in here for this conference, we are here for each other. Let us resonate the global mantra of "Leave no one behind" while working and walking SDGS 17 for attainment of Agenda 2030.
"SDG Acceleration Actions" is a high-profile target space created in the lead up to the UN SDG attainment by 2030. The Indigenous solution aims to capture new, ambitious initiatives undertaken by governments and non-state actors to accelerate the implementation of the SDGs using our local methodologies while thinking global.
Expected partnership with non state actors from our multi nationals remain low at 8% of the total, thus African Indigenous Center For Sustainable Development Goals/ Utopian women / Divas and Titans are encouraged to use this conference as an opportunity to present new SDG Acceleration Actions using the outcomes of our last workshop that was set up in the lead-up to this SDG conference. Such SDG Acceleration Actions can be either new initiatives or ones that build on, or scale up existing efforts to implement the SDGs.
Each delegate especially the Utopian women considering their next international summit in Capetown or Kenya can address either one or multiple SDGs, including efforts that strive to build back better from the COVID-19 pandemic.
Like we hoped, the country policy makers would appreciate our contribution because UN would score our continent based on our outputs.
To our esteemed guests, "We have planned the flight ✈️, help us to fly the plan".
To the cohorts and advocates, remember, "We think global and act local".
Thanks and God Bless You!
Ambassador Sixtus Obinna Nwoke, Convener, African Indigenous Center for Sustainable Development Goals AIC4SDGS)