This post has already been read 179 times!
…Targets Conversion Of 2000 Diesel/Petrol Buses To CNG
Governor Dapo Abiodun of Ogun State has given a hint on how the Gateway International Agro-Cargo Airport project, when completed, would create jobs for about 25,000 unemployed youths in the state.
This is even as the Governor revealed that the state government targets to convert 2000 diesel/petrol buses to Compressed Natural Gas (CNG) at the expense of the state government.
On the airport project, he added that the airport comes with other developmental initiatives that would be situated at the aerotropolis, like the Special Agro Processing Zone (SAPZ).
The cargo airport, it was learnt, is a mega airport project conceptualised to create needed infrastructure to boost the exportation of agricultural and non-agricultural goods and reinvigorate social, economic activities, which will subsequently increase revenue generation drive of the state.
Meanwhile, while inspecting the first successfully converted diesel/petrol buses to Compressed Natural Gas (CNG), the governor said his administration is currently looking at how to convert close to 2000 buses at the expense of the state government.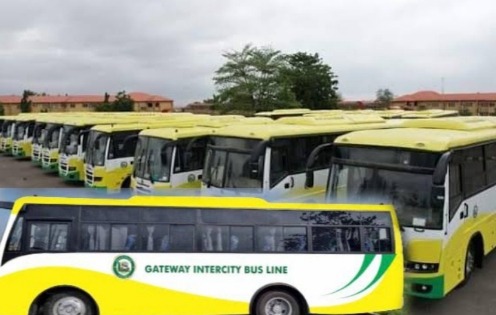 Abiodun also added that the abundance of gas in the state is a major factor that would aid the successful transition.
"Luckily, in Ogun State, we have abundance of gas. So, today, these buses have been successfully converted.
"The plan is to first convert the state-owned buses and then begin the conversation of all mass transit buses that are owned by the private sector.
"Alongside with that, within the next two to three weeks, we will be launching our e-mobility programme aimed at swapping all our petrol-dependent motorcycles and tricycles with electricity-powered ones", Governor Abiodun said.
The Governor revealed that fueling stations for Compressed Natural Gas (CNG) would be positioned along bus routes across the state.
Governor Abiodun said: "Obviously as we proceed, we will be positioning our fueling centres on the bus routes, conveniently located so that the buses can refill from time to time."
The Governor revealled that old buses operating in the state would gradually be phased out as they got older.
"This is a journey, the ultimate aim is to have buses that will be powered by electricity. However, we appreciate the fact that we have relatively new buses.
"We have commercial buses out there that may not be so new, but are still road worthy. We cannot just wake up one day and scrap all those buses. We must transit from those buses that are currently burning diesel and petrol to those that would be powered by electricity.
"The plan is we convert the current ones to use gas and we now begin to gradually face them out. As they age, we face them out and replace them with electric powered buses, whilst we roll out the required infrastructure that they would require, charging stations and uninterrupted power supply," he added.