This post has already been read 398 times!
People Democratic Party (PDP) Presidential candidate for 2023, Atiku Abubakar has assured people of Kogi state of fixing moribund Ajaokuta Steel Complex if elected as president.
Atiku Abubakar the PDP Presidential candidate, made the commitment during the party's Presidential campaign at the Confluence Stadium in Lokoja, Kogi State.
He assured the people of Kogi State that if elected, the night mare of Ajaokuta Steel Complex be a thing of the past, Inland Water Port in Kogi State which is a national problem will be fixed to create jobs in the State
Atiku reiterated that all salary arrears of Kogi State civil servants would be paid to the wokers, thereby reawakening the state from it's present predicament.
Atiku said, "I have promised you that I will set aside $10bn to empower our young men and women to own their own businesses and live a comfortable life. I am also promising that the issue of Universities closing for months will be a thing of the past if i am elected president of Nigeria".
The Natonal Chairman of PDP, Dr Iyorchia expressed dissatisfaction at the dillapidating level of Kogi, a resourceful state just in the last eight years.
"In the last eight years that APC government has being in power in Kogi State, the people have suffered hunger, poverty, insecurity, and people cannot sleep with their eyes closed. It has being a life in bundage".
He however expressed delight over the decamping of the three higher APC political leaders in the state into PDP.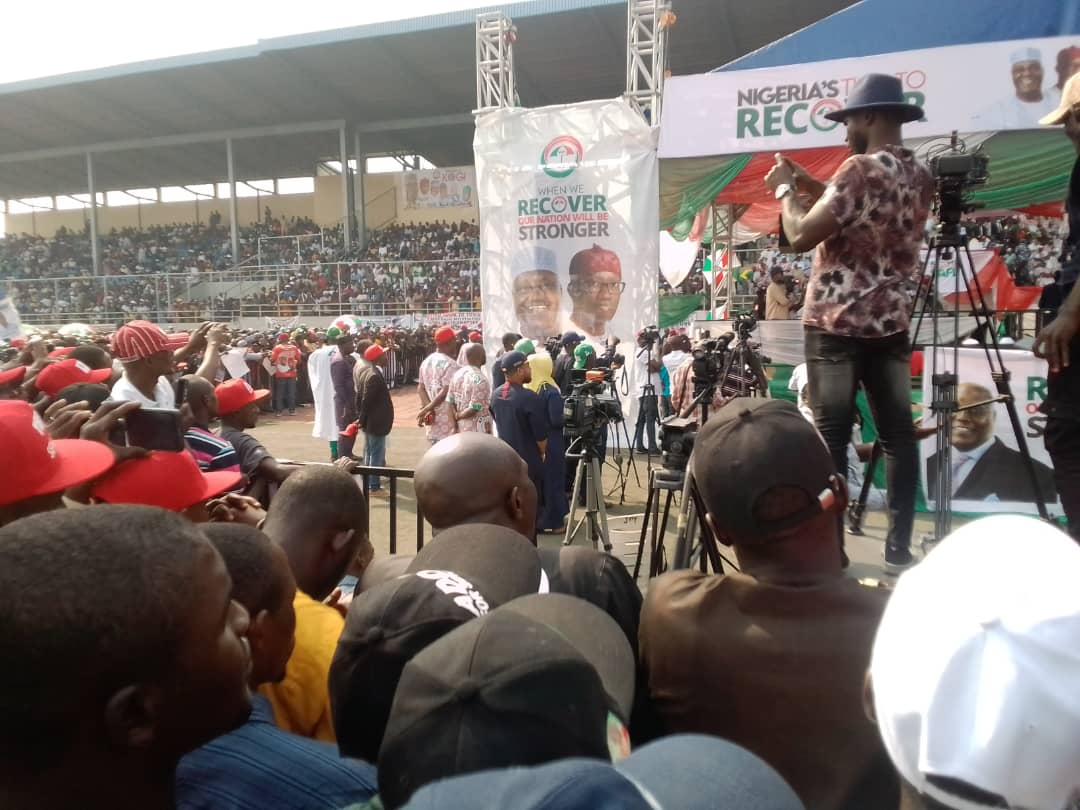 The high profile decampees received into the party, PDP with over two hundred thousand supporters includes, HE, Simon Achuba, former deputy governor of the state; Hon. Alfa Imam, the former deputy speaker in the state and Hon. Yahaya Karaku, a former Chairman of Okene LGA and a Special Adviser to Governor Yahaya Bello in the state.
While speaking for the decampees, HE, Simon Achuba cited the failure of APC administration in Kogi State to fulfil it's promises of 2015 and 2019 which includes, reviving the state economy now on negative decline, but instead triggered greater insecurity, hunger, poverty, injustices, loopsided appointments and religious insensitivity in the state and others as reasons for their decamping from APC to PDP.
Earlier, the former governor of Kogi State, Chief ( Alh.) Ibrahim Idris, the PDP leader in the state has assured the PDP Presidential candidate, Atiku Abubakar and his vice, Dr Ifanyi Okowa of harvesting
Kogi votes and winning the state governorship and president in 2023 general elections.
Others speakers and dignitaries at the occasion includes, Vice Presidential candidate, Ifanyi Okowa, Governors of Akwa Ibom, Taraba, Adamawa States, former Kogi Governor, Capt. Idris Wada, Senators Dino Melaye, Kogi Central Senatorial candidate, Natasha Akpoti Uduagha and many other Senatorial candidates.