This post has already been read 149 times!
It has been a season of tributes from all over the world, particularly from Nigerians within and in the diaspora, as the Presidential Candidate of the Social Democratic Party (SDP), Prince Adewole Adebayo clocked 51 on Sunday.
Our correspondent learnt that the young, dynamic and promising candidate of the SDP, was overwhelmed with barrage of messages, calls and wishes on his birthday.
Reacting to the messages, Prince Adewole Adebayo thanked Nigerians and associates for the show of love, expressing optimism that the country can be an envy of other nations of the world with the right leadership in place.
Prince Adebayo explained that with the SDP at the helms of affairs in the country, Nigeria will be reset and primed for its pride of place in the comity of nations.
On his chances at the 2023 polls billed for February 25, he was optimistic that Nigerians would overwhelmingly determine their future by casting the ballot for him and the SDP.
He thanked God for keeping him this far and in good health, adding that, "God's mercies upon my life is an indication of the role he is preparing me to play."
Has been described as one whom anyone very confident, an individual who cherishes the life of the mind, invests in its cultivation and continually stand out for his application brain, lucidity and logic.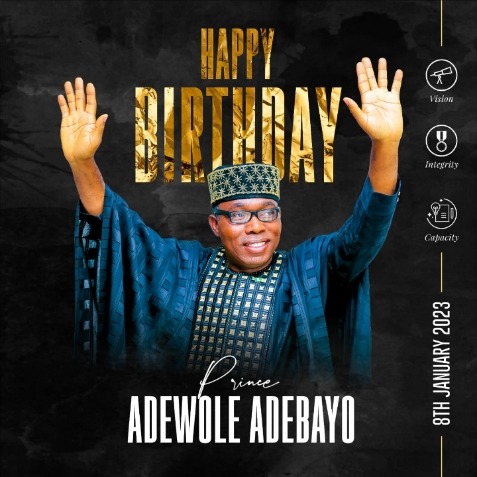 In just 51 years, Prince Adewole Adebayo easily ranks among the most educated and able Nigerians in any field, and certainly one of the very best yet to hold public office, and one of the most committed to the public good through his philanthropy gestures in Africa and beyond.
Adebayo's talents are strengthened by a tough character built on the old values that are anchored on hard work, honesty and resilience.
The awesomely talent presidential candidate was nurtured in Ondo kingdom and he has devoted his adult life to making Ondo town better for all with several projects, including streetlight projects execution.
A direct descendant of Osemawe Odunola, grandson of Osemawe Lamele and direct descendant of Alaafin Onigbogi and Alaafin Sango of Oyo Ile and Elempe, Etsu of Nupe and Oba of Bini, Adewole Adebayo was born on the 8th January, 1972.
After completing his Primary School in Ondo, his mind was sharpened at Saint Joseph College, Ondo and further refined at the prestigious Obafemi Awolowo University where he graduated with honours in Law.
In OAU, not only did he run a successful law programme, but also participated in national activism as a Nigerian student.
He was called to the Nigerian Bar in 2000 after completing and passing his bar exams from the Nigerian Law School, Lagos.
In 2002, shortly after his return to Lagos following his NYSC in Kogi State, he joined the Tunji Abayomi law firm where he quickly rose through the rank.
Prince Adebayo later acquired Masters of Law at the University of Jos. He participated in the activities of Nigerian Labour Congress as a Comrade and he made friends across Nigeria who admire him for his strength of character, integrity and zeal.
He later left the law firm of Tunji Abayomi for Abuja where he established his personal law firm, "Adewole Adebayo & Co., House of Law".
As the Principal Solicitor, he came into prominence as a leader in his professional field while also investing in the future of young people by employing corps members lawyers and teaching them.
His chain of business interests spans from legal to pharmaceutical, agriculture, media, and more.
He is the founder of KAFTAN TV.