This post has already been read 216 times!
The digital revolution of the Alhaji Garba Abubakar-led Corporate Affairs Commission (CAC) has received a further boost.
The development followed the presentation of two brand new high-density laptops to the CAC by Praxis and Gnosis (a law practise and business advisory firm) in recognition of and support for the Commission's recent digital transformation.
Presenting the items, Ayodeji Bamigbola (partner), accompanied by Uwa Omoruyi (senior associate) and Adeola Karimat Dada (associate), said the gesture was to augment the Commission's digital processes.
He therefore commended the management and staff of the Commission for their untiring efforts towards the implementation of an end-to-end electronic solution for the benefit of customers and the growth of the Nigerian economy.
Responding, the Registrar General and CEO of the CAC, Alhaji Garba Abubakar, appreciated the gesture, which he said would go a long way in enhancing the Commission's operations.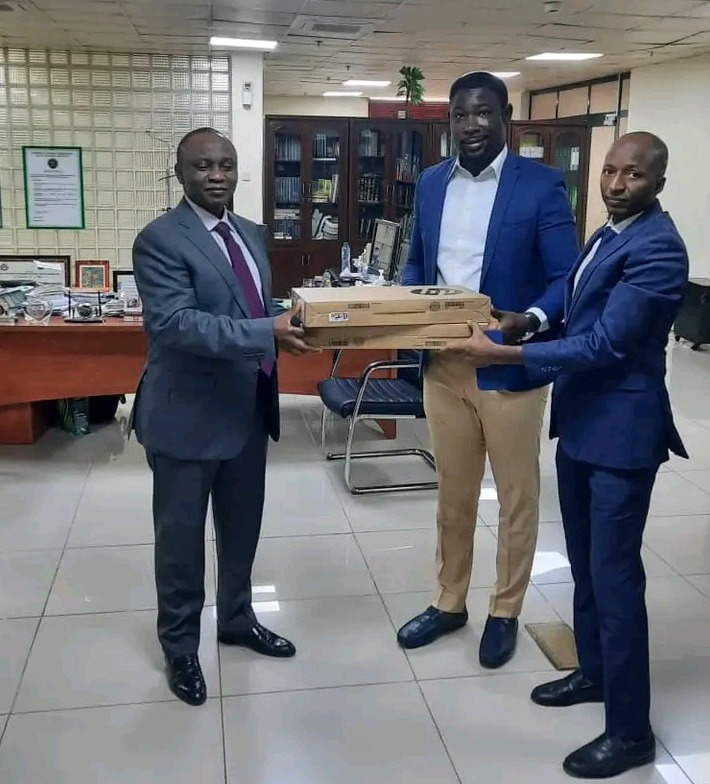 Alhaji Garba Abubukar therefore restated his resolve to implement far-reaching reforms in line with global best practices.
ABUJA BUSINESS REPORTS NEWSPAPER & MAGAZINE recalls that on August 5, 2021, one of Nigeria's oldest and renowned law firms, Olajide Oyewole LLP, made a similar donation of laptops to the CAC.
The Corporate Affairs Commission, on its part, had reinvigorated its digital revolution with the distribution of data-enabled laptops to all its approving officers, who often voluntarily respond to online applications outside of office hours and on weekends.