This post has already been read 169 times!
A businessman and football adminstrator, Chief Emmanuel Nnokwute is the new Vice Chairman of the Imo State Union Ghana. He was elected at a delightful and friendly scene during the March General meeting of the group in Accra.
The Imo State Union Ghana is an association that brings together all Imo indigenes residing in Ghana for the purpose of unity and progress of its people.
It has its members across all the regions in Ghana, with a National leadership that ensures the welfare of the people are well catered for.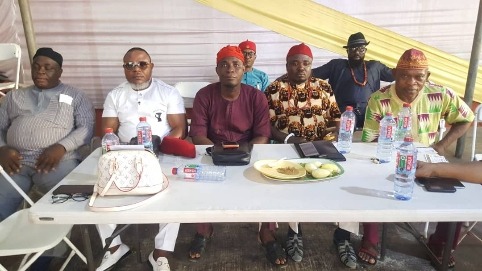 Recall that Chief Cyril Chukwuma, the former Vice Chairman died in June 2020 and has been buried.
Hence, the association moved to meet the need to officially get a replacement for the late deputy leader to assist other executives in delivering good leadership to Imo indigenes in Accra.
Before the election that produced Chief Nnokwute as the new vice chairman, the Electoral committee headed by Sir Emma Ibe and Chief Callistus Elozieuwa urged members of the Union who were present to see the election as a friendly exercise while promising a very transparent process.
After the votes were counted, the other contestant, Chief Casmir Dike, pledged to work together with the winner in uplifting the image of the Union.
On his part, Chief Nnokwute has expressed his willingness and determination to assist the President and other executives to consolidate on the good plans for the Union.
While giving his closing remarks to bring the meeting to a close, the National President of the association, Chief Leo Clement, assured Imo indigenes in Ghana that his executives would continue to impact positively on the lives of members.
He noted that despite the COVID-19 challenges that stalled the meeting for sometime, the executives have continued to bring their creative ideas to bear on the running of the association, asking everyone to forgive one another so God can hear all our prayers.
Furthermore, the National President called for support from members as they prepare to travel to Techiman for the inauguration of Imo State Union National Leaders and Executives of Techiman chapter.