This post has already been read 6 times!
The federal government is to increase the number of National Home Grown School Feeding Programme beneficiaries in the state to 600,000.
The Minister of Humanitarian Affairs , Disaster Management and Social Development Sadiya Umar Farouq made this known on Friday at a high level engagement session with the Governor of Borno State, Prof Babagana Zulum and officials of the state government.
Umar Farouq stated that the school feeding program which provides 1 free meal to over 9 million pupils in primary schools across the nation will soon be increased to cater to more children as soon as the ongoing enumeration exercise is concluded nationwide.
"I am pleased to inform that we have commenced deployment of interventions within the National Home-Grown School Feeding Program that will address the identified gaps .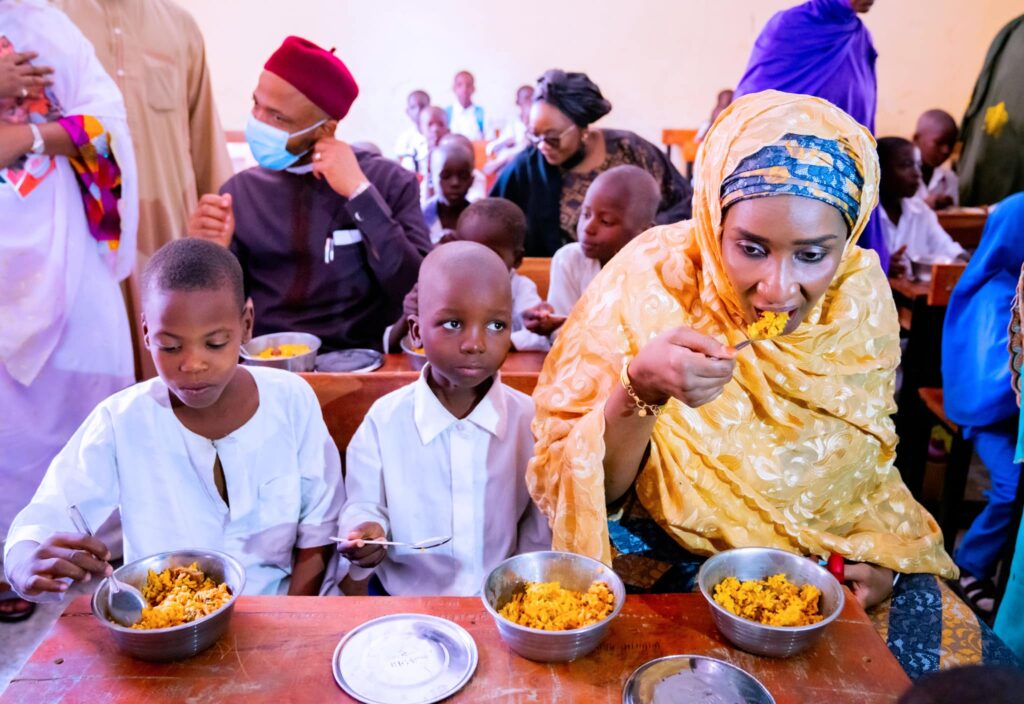 "For instance, we commenced a Nationwide enumeration exercise with the objective of verifying the existing data, upgrading the quality of data, and updating our records to accommodate the scaling up of the program with an additional 5 million beneficiaries as directed by President Muhammadu Buhari.
"In Borno State, we are providing funds to the State selected vendors and aggregators to feed 109,022 pupils and provide employment for 1554 cooks in 473 schools. In that value chain alone, hundreds of jobs are created every day and people are earning.
"We have directives from Mr. President to add 5 million more pupils to the school feeding program. Borno State NSIP has proactively sent in a request to increase the population of pupils on the program to 600,000.
"This is in progress and once we conclude our ongoing verification exercise here in Borno State, we will be able to update our records".
The Minister also solicited continued sensitization of communities and individuals, on the importance of the program and the need for it to be safeguarded from all forms of corrupt practices by those who have been entrusted to prepare the meals, supply the food items, and even coordinate the activities.
In his response, the Governor who was represented by his deputy Hon. Umar Usman Kadafur thanked President Muhammadu Buhari for the various intervention projects currently ongoing in Borno state.
Hon. Kadafur promised to align with federal government's policy of alleviating poverty in the country.
The deputy governor also assured that adequate resources will be provided for proper monitoring of various actors engaged by the state to ensure full compliance of guidelines and responsibilities.
Earlier, the Minister Umar Farouq had handed over feeding utensils to beneficiaries of the National Home Grown School Feeding Program in Dipcharima Road Old GRA primary school in Maiduguri.
The items included plates, cutlery, pet juice packs and biscuits.