This post has already been read 99 times!
Wolverhampton is a place that I love.

Nuno Espirito Santo, May 23rd 2021.
Imo State Special Adviser on Diaspora, Cllr. Celia Osakwe-Hibbert who is also one of the elected Councillors in the City of Wolverhampton, United Kingdom, was captured on camera as she joined fans in Wolverhampton and across the Diaspora to say 'obrigado' (thank you) to Nuno as he played his final game in charge of Wolves last Sunday.
Recall that after four seasons at Molineux Stadium Wolverhampton United Kingdom, Nuno has led Wolves to the Premier League as EFL Championship champions and recorded back-to-back seventh placed finishes in the top-flight.
Today's last game, which was Nuno's last with Wolves, presented an anti-climax when a 31 year old man was arrested by the West-Midlands Police following an allegation that the 31 year fan directed a 'monkey chant' towards Rio Ferdinand. Rio, a former Man United player, had attended the match in Wolverhampton as a pundit for BT Sport.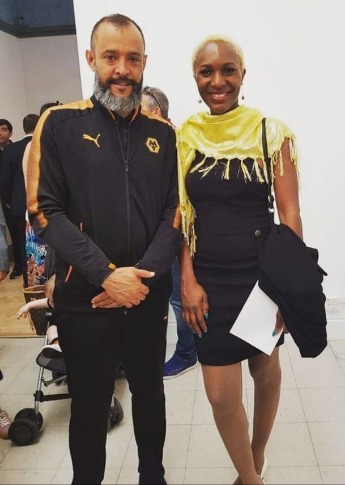 Nuno's side became the first Wolves team to reach the quarter-finals of European competition for nearly 50 years, and he will exit the club as its fifth longest serving manager of the post-war era.
Governor Hope Uzodimma's Aide in charge of the Diaspora Office thanked the Westmidlands Police who moved fast to identify and apprehend the offender. Cllr. Celia said "there is no place for hate nor haters.
"As humans we must be free and that includes physically, mentally and psychologically free. The authorities must clamp down on hate and aggression both of these have no place in our communities".
Wolverhampton Wanderers scored 1 goal whilst Manchester United won with a modest 2.