This post has already been read 84 times!
In a renewed efffort to address the existing skill gaps in various sectors of the country's economy, particularly among the teeming unemployed and unskilled youths, the National Directorate of Employment (NDE), has kicked-off a Youth Transformation Training Scheme (YTTS) in Technical and Vocational Skills Training in Oyo state.

The intensive training which involves 50 unskilled and unemployed youths drawn across the state consist of technical and vocational skill sets which includes GSM Repairs,Fashion Designing, Computer Operation, Shoe Works, POP, Electrical and Satellite Installation.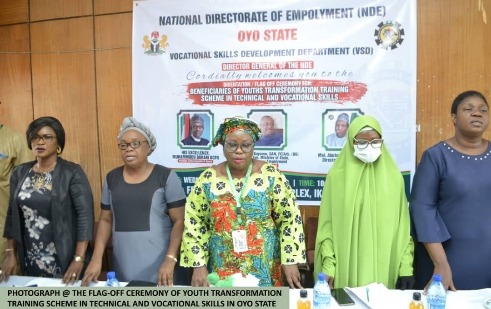 Speaking at the event, the NDE Director General, Mallam Abubakar Nuhu Fikpo, said the training was designed to give prospective unemployed and unskilled youths the needed skills to live, learn and work as productive citizens in the global society and to remain in tune with national development through changing social values.

Fikpo, represented by the NDE Oyo State Coordinator, Mrs Olayinka Olayemi, noted that the training was in response to growing demands in modern specialised technical and vocational skills to sharpen and broaden youth's capacities while engaging in high income generating economic activities.

He added that the scheme was designed to fill the existing skills gaps in some key sectors of the economy and urged the trainees to make maximum use of the unique opportunity.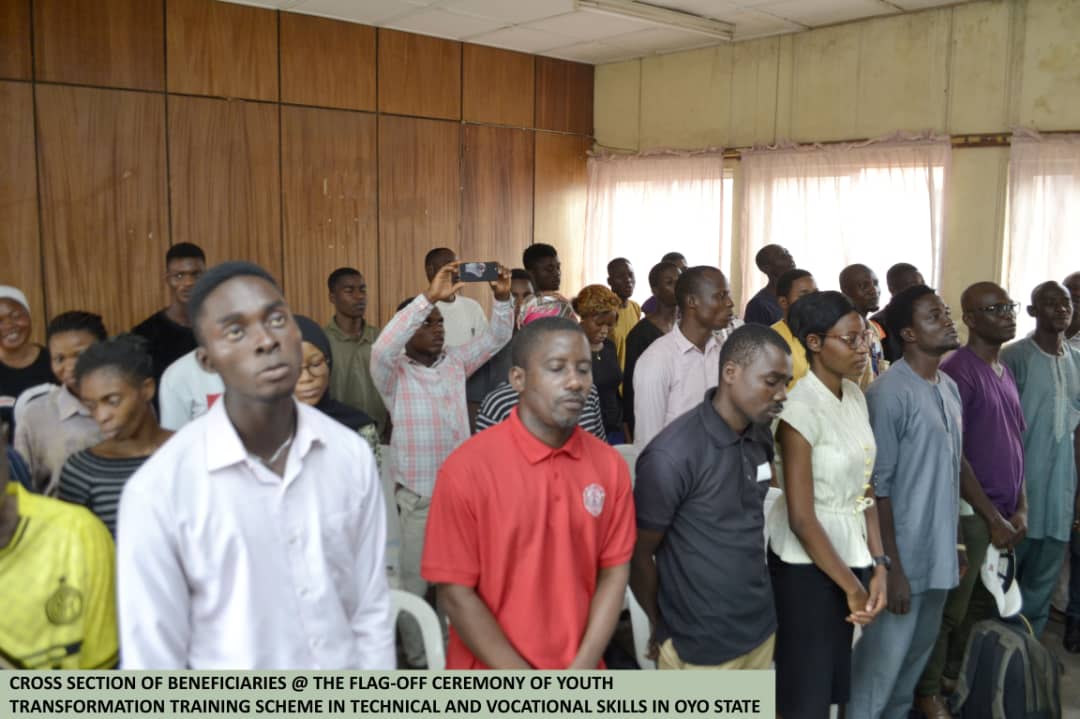 He also explained that the training was aimed at making the unemployed and unskilled persons to be employable by impacting relevant demand driven skills, knowledge and competence in them, to become self-reliant and an agent of change in their communities and country at large.

Also speaking, the Director, Vocational Skills Department, Mr Isa Abdu, represented by Ms Balkisu Jimada, expressed hope that the training programme will unlock the huge hidden potentials in the state that would transform and stimulate ecomic growth and development in the country.

He further said that the trainees would be posted to master trainers who will impact the needed skills in them between periods of three to eighteen months depending on the chosen skills sets.

The Head of VSD, NDE Oyo State, Mrs.Lawani Hilda, advised the beneficiaries of the scheme to develop a focused and healthy mind-set towards the training.

''It is our firm believe that this training programme would transform your lives greatly and keep you abreast with latest advancement in the global market especially in your chosen skills which will deepen the county's drive towards employment generation and poverty reduction in the country.''
ABUJA BBUSINESS REPORTS NEWSPAPER & MAGAZINE