This post has already been read 142 times!
Katsina State Government said it Will continue to partner and give all necessary support to kaduna chamber of commerce in all its commercial activities.
Governor Aminu Bello Masari said this on Thursday at Katsina State special day at the 42nd Kaduna International Trade Fair.
The Governor who was represented by his Deputy, Qs Mannir Yakubu said the Government recognises such support as it is beneficial to Katsina State, saying such partnerships will benefit the citizens of the state who are largely farmers, industrialists, traders, artisans, as well as entrepreneurs.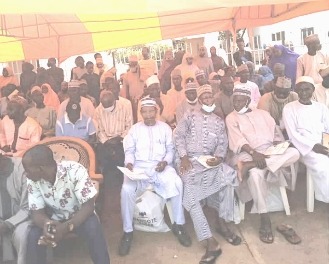 The Deputy noted that the State is blessed with natural and mineral resources for investors willing to come and partner for the development of the state.
Masari further explained that the State Government has already put in place all necessary incentives for unlocking the opportunities available for such investors.
He said that such investment opportunities are abundant in many areas, especially agriculture for which the state is known for and also for the singular fact that agriculture holds the available key for "our commercial, industrial and social development."
He noted with delight that agriculture is playing very crucial and central role in the integration of human and capital development in the state.
The Governor said he is using the opportunity to invite willing, capable and able investors from near and far "to come and partner with the state in this unbounded segment of the economy."
He added that other areas of investment, which the Government is also committed to their full development, include solid minerals, tourism, industrialization, among others.
Earlier on, the Commissioner for Commerce, Industry and Tourism, Muktar G Abdulkadir said the Government is committed to resuscitating the moribund industries in the state.
Alhaji Muktar said the State Government had signed an MoU with Contec Global Agro Limited in other to make the inactive Neem Seed Processing Company operational.
According to him, the company has three major production lines of organic fertilizer, Neem Seed Oil, Adrazatin Chemical.
He said the investors willing to diversity the production lines to other products like pomade, cosmetic, etc, would create employment opportunities and serve as sources for improved Internally Generated Revenue (IGR) as well as to improve foreign exchange earnings for the state.