This post has already been read 94 times!
The Nigerian National Petroleum Company Limited (NNPCL) has announced changes in its senior management cadre, just as the company disclosed that it has signed a Memorandum of Understanding (MoU) with Indorama Eleme Petrochemicals Ltd aimed at deepening Nigeria's Nigasification strategy.
In a statement signed by the Chief Corporate Communications Officer at the
NNPC Ltd, Garba Deen Muhammad, the company noted that the changes in its management level was "in line with NNPC Ltd.'s commitment and drive for organisational renewal, anchored on our business imperatives, standards of excellence, people development, and strengthening our competencies and capabilities through broad-based leadership exposures, the company".
The new executive appointments, which took immediate effect as announced yesterday, has Oritsemeyiwa A. Eyesan as the new Executive Vice President, Upstream; Olalekan Ogunleye as the new Executive Vice President, Gas, Power, and New Energy; and Adedapo A. Segun as the Executive Vice President, Downstream.
Signs MoU With Indorama Petrochemicals
Meanwhile, another statement yesterday revealed that NNPC Ltd. and Indorama Eleme Petrochemicals Ltd., have signed a Memorandum of Understanding (MOU) to explore and develop suitable opportunities within the remits of both parties' interests across the hydrocarbon value chain in Nigeria; a development that NNPC Ltd.'s GCEO, Mele Kyari, summarized thus: "NNPC Limited is on the threshold of making value out of gas beyond any imagination."
The NNPCL noted that "as the national energy company, one of NNPC Ltd.'s roles as enshrined in article 64(i) of the Petroleum Industry Act (PIA) is to promote the use of natural gas through the development and operation of large-scale gas utilisation industries.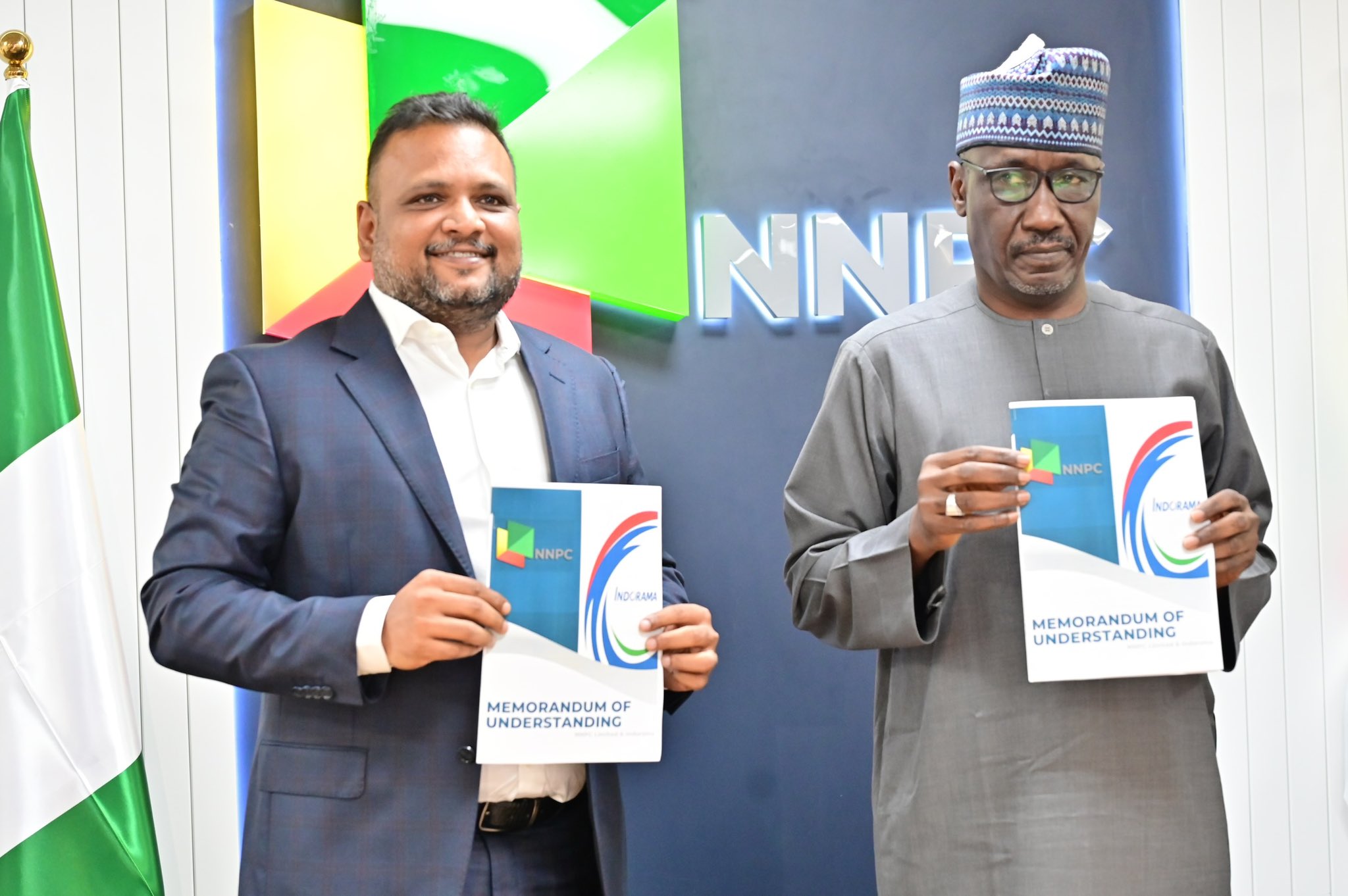 "This role is in alignment with Nigeria's Nigasification strategy which is a consolidation of critical programs embarked upon by the company to utilise natural gas and its associated liquids to be the energy source of choice, spur economic growth, free up crude oil for exports, and ultimately enable job creation."
According to NNPC Ltd.'s GCEO, with this project, "we are seeing an annual contribution of $3bn to the nation's GDP and a lifetime contribution of $18bn to government revenue."
NNPCL added that "As part of the company's vision of operating the largest Petrochemical Hub in Africa, Indorama which owns the world's largest single-train Urea Plant located in Port Harcourt, Nigeria, is currently working on expansion plans within the next 6 years, in the gas-based heavy manufacturing industries including fertilizer, methanol, and petrochemicals."
In his remarks, the MD/CEO, Africa Indorama Energy, Manish Mundra, stated that "This is a strategic collaboration to unlock Nigeria's upstream sector, but more importantly, to partner downstream, in order to share the value chain."
He said that "Nigeria's gas reserves should position the country as one of the largest producers of urea in the western hemisphere."
Key benefits of the opportunities, according to NNPCL, include the monetization of over 1.7 TCF of gas and 100 million barrels of oil reserves, generation of upstream lifecycle revenue of over $18bn, downstream production of about 4.8 Million Tonnes Per Annum (MTPA) of products including methanol, urea, and fertilizer to boost national food security.
Other benefits include the creation of about 55,000 direct and indirect employment opportunities, the development of a condensate refinery to boost petroleum product supply and reduce product importation, annual GDP contribution of over $3.8bn, and attraction of over $7bn of foreign direct investment into the country.
The NNPC Ltd. MOU with Indorama, the company said, follows Nigeria's President Bola Ahmed Tinubu's commitment in India a few weeks ago, to strengthen business relations between both countries.
ABUJA BUSINESS REPORTS NEWSPAPER & MAGAZINE