A traditional ruler, His Royal Majesty, Eze Williams Ezugwu, the Eze Ogbozarra III of Opi Ancient Kingdom and the Eze Ka Eze 1 of Ideke land, Nsukka Local Government Area of Enugu State, has felicitated with renowned philanthropist, Chief Charles Mba on his 50th birthday anniversary.
The monarch, who is also the Secretary General of the Conference of Nigeria Political Parties (CNPP), spoke with newsmen after gracing the birthday event, which held at the country home of Chief Mba at Orba Nsukka, noting that various dignitaries who also attended the birthday bash is a testimony that the celebrant has touched lives.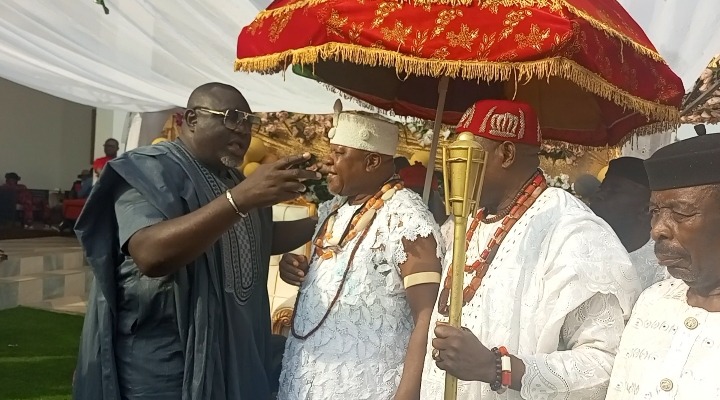 In his words, Eze Williams Ezugwu said, "As we all can see, Chief Charles Mba is a philanthropist per excellence who has touched lives in no small measure.
"The calibre of personalities here, from the Enugu State Governor, Rt. Hon. Ifeanyi Ugwuanyi, to General Ezugwu, to Senators Ike Ekweremadu and Utazi, to Prophet Odumeje, and several renowned musicians, as well as others who are too many to name, is a sign that Chief Charles Mba is a people's person and has touched lives.
"Our success in life is measured by how many lives you have been able to impact positively. That is what the celebrant and his amiable wife have been able to do and the result is the many personalities and ordinary people on the streets we all can see both inside and outside the venue", Eze Williams Ezugwu noted.
Chief Mba, a real estate developer, is the Chief Executive Officer of CDV Properties and Development Limited and sits on the board of many companies as Chairman or Director, including Coutics Investment Ltd, CILAN Workforce Ltd and JASONS Academy.
He is also a member of several professional bodies, including the Real Estate Developers Association of Nigeria (REDAN) and a Chartered Fellow of the Chartered Institute Of Public Resources Management & Politics, Ghana (CIPRMP).